Interactive Science Series
Q: Is science dangerous?
Krishna: Danger lies with the person who uses science in the wrong way, not science .
Some people complain that science also brings with it a few bad things like commercial GM crops, nuclear bombs etc. along with the good it does to the mankind. But according to the scientific community – science is like a knife. A knife can be used to cut throats and spill blood. It can also be used for good purposes like cutting fruits and vegetables. It depends on the person who uses it. Likewise science can also be used for the benefit of living beings as well as for their destruction. Which way it goes is in the hands of the person who uses it. The choice is definitely yours, Homo sapiens.
Q: Why does science tell us race is just a social construct, even though we can clearly tell what race people are? Surely there has to be some basis to it, otherwise how can we tell an Indian from a German?  
Krishna: There might be slight differences like skin colour, height, eye colour, hair colour, which can have exceptions too. Indians can have 'German looks' and Germans can have 'Indian looks' because of slight genetic variations but they need not be general rules.
Regional adaptations play a role but these tend to express difference within so-called races, not between them. 
But you cannot categorize people into races based on these small   genetic variations. Racism is  a pseudo-science based on a classification system that puts one race as inferior to another. Racism as a pseudo-science morphs itself into an ideology that permeates and constructs a deeply flawed culture and society.
This is what scientists think:
Race Is a Social Construct, Scientists Argue
Why racism is not backed by science
Q: Why did my vegan and non-smoker 38 year old sister die due to lung cancer while my grandpa died at 93 as a pure tobacco smoker due to ageing?  
Krishna: Did your sister live in a highly polluted environment? And your grandfather lived in a healthy environment?
Did your sister inherit her dominant genes from another grandparent - not your grand father - and had genetic pre-disposition for cancer?
Did your sister have influence of epigenetic factors?
Did your sister eat poor nutritional value diet?
Was your sister overweight and your grandfather the right one?
Did your sister live a sedentary life?
What was your sister's biological age?
Did your sister come into contact with other carcinogenic products more than your grand father?
Was your sister exposed to second hand smoke?
You have to answer several of these questions before coming to a conclusion! Because several factors influence cancer's origins and development, not one.
Q: Why do some people get lung cancer even though they don't smoke?
Krishna: Some 10-15% of lung cancer arises in individuals that never smoke. There are several reasons for this... 
Primary factors closely tied to lung cancer in never smokers include exposure to known and suspected carcinogens including radon, second-hand tobacco smoke, and other indoor and outdoor air pollutants. Several other exposures have been implicated.
Please read the answer above to have a better understanding on this.
Q: Do miracles actually happen or its just a mere belief?
Krishna : Miracles are miracles only until … explained by science. Miracles are real wonders for the uninformed mind.
While intuitive thinkers feel it is magic, reflective thinkers are more likely to see the event as a statistical fluke.
Feeling that something is a miracle denotes your state of mind, your perception quotient (PQ).  
THE SCIENCE OF LOVE
Q: Why do people behave stupidly when they are in love?
Q: Why do people always think so positively of the people they love? Like when somebody that loves me wants to think I'm smart super strong, super wise and the best person in the entire world for example and why are these people completely full of shit  
Q: What is the science behind getting loved?
Krishna: This is called motivational reasoning ( biased thinking) where emotions rule your thought process. You want to have a positive relationship with your loved ones. You want to have a positive image of your loved ones to be happy around them. Then you search rationally for information that either confirms or disconfirms a particular belief, people actually seek out information that confirms what they already believe in. This is a form of implicit emotion regulation in which the brain converges on judgments that minimize negative and maximize positive affect states.
This reasoning is not only bad for you but also for your loved ones because your praise no matter how badly they behave, makes them blind to their own black spots.
However, you will have very little control over your emotions which make people say…
love is not only blind but is mindless too…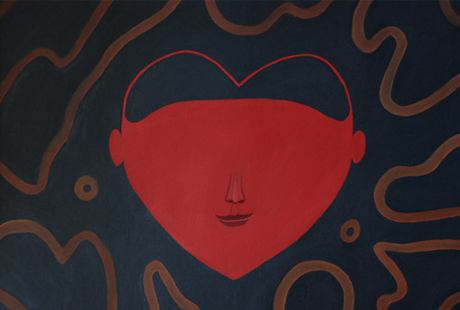 DR. KRISHNA KUMARI CHALLA'S ART WORK
(From http://www.kkartfromscience.com ) 
Hormones in your body like testosterone and oestrogen, dopamine , adrenalin. serotonin - these bio-chemicals may actually manipulate your brain when you are in love. Oxytocin takes you to a high and really tweaks your brain. And you lose your mind and go mad!
The frontal cortex, vital to judgment, shuts down when you fall in love. MRI scans show this de-activation occurs only when someone is shown a photo of the person they adore, causing them to suspend all criticism or doubt.
According to neuro aesthetics...
When you look at someone you are passionate about, some areas of the brain become active. 'But a large part is de-activated, the part that plays a role in judgment.' the brain may behave in this way for 'higher biological purposes' – it makes reproduction more likely. If judgment is suspended, the most unlikely pair can get together and reproduce.
Brain scans have also shown the area of the brain that controls fear, and another region involved in negative emotions, close down, explaining why people feel so happy with the world – and unafraid of what might go wrong – when they fall head over heels.
Studies have shown brain chemical dopamine is at higher levels in those in love. Dopamine is key to our experiences of pleasure and pain, linked to desire, addiction, euphoria, and a surge may cause such acute feelings of reward that it makes love hard to give up.
A side effect of rising dopamine levels is a reduction in another chemical, serotonin, a key hormone in our moods and appetite.
The love chemical we are most familiar with is adrenaline. This hormone is why our heart races, palms sweat and mouth goes dry when we see the person we like.
Scanning of brains of people in love shows that there is clear cut pattern of brain activity when they were looking at their new love.
Four areas of the brain became active, and one area noticeably inactive, when the subjects had love on their mind. The active areas include one responsible for 'gut' feelings and one that is known to respond to euphoria-inducing drugs. The lights go off however, in the prefrontal cortex, an area that is overactive in depressed patients.
Q: Why do people place a lot of faith in Astrology?
Krishna: Why do people place faith in several irrational things?
When they lose faith in themselves, when their lives and minds are in a chaotic state, when they fear something, when others mislead them, and when they cannot think critically.
During hard times, when people think they don't have any control over the situation they are in, they again become more irrational and tend to see non-existent patterns in unrelated pictures.
Yes, throughout uncertain times, when stress, risk and death are involved, people tend to depend on external emotional strength and confidence boosters. And these are also the situations where people are highly vulnerable and get exploited by Godmen, religious zealots, cheats etc.
This article explains it more elaborately…
Science's rules are unyielding, they will not be bent in any way fo...
Q: What is that white camphor like material people are using now-a-days in ice cream packs that looks like releasing some gas? Is it safe to use?
Krishna: Dry Ice! it is the solid form of Carbon dioxide.  It is being used as a cooling agent.
Picture Source: wikimedia.org